With Christmas bells revving just within earshot, families around America are getting ready for their big shop for groceries for the holiday season. Despite the pandemic, people will be celebrating the festive season with their loved ones, albeit following local social distancing norms and public gathering guidelines. So, if the celebrations will continue as before, is it possible that consumers will continue to shop like they did before too? Well, the short answer is an assertive— NO!
As per a 2019 Deloitte retail survey, the three categories that holiday spending can be categorized into are: clothing and accessories (26%), food and beverage/health and wellness (20%), and toys and hobbies (17%). With restrictions guiding a lot of the social movement, shoppers this year are going to likely focus on choosing to shop online, develop their own recipes and find newer ways to bond over food.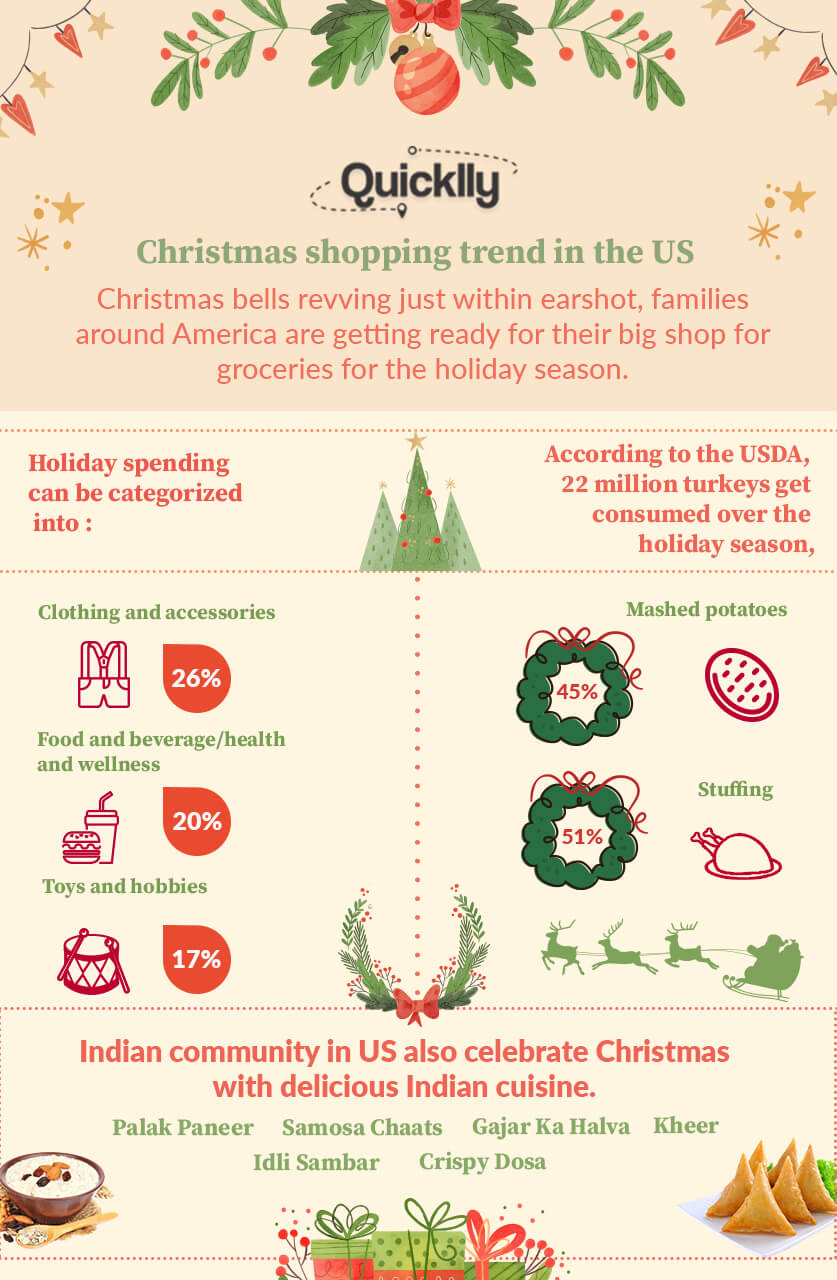 According to a report by Kantar, online shopping tends to dwindle around the December. However, this has not been the case this year. More and more people are choosing convenience and safety over local visits. The same is true for the South Asian community living the United States and also undertaking Indian Grocery Shopping in Chicago in addition to their usual grocers. With Quicklly offering delivery for all your unique Indian spices and special groceries on a single platform online, there is no need any more to make the extra trip to the Indian Grocery store.
According to the USDA, 22 million turkeys get consumed over the holiday season, making it one of the most popular meals. The State of Grocery Retail Report also indicated that mashed potatoes (51%) and stuffing (45%) were listed as favorite sides for Christmas meals. In Indian households, similar food experiences are replicated by adding a whiff of unique spices. Flavored basmati rice, seasoned lentils and mouth-watering Indian sweets are certainly all must haves during the festivities. Some of the top favorites dishes that will find an way to the dinner tables include palak paneers, samosa chaats, kheer, gajar ka halwa, and more. Idli Sambar or crispy dosas will also likely make an appearance for breakfasts in some Indian households.
Get all your unique groceries, meal packs and special Indian spices delivered to your doorstep with Quicklly. It's all available at your fingertips with the new Quicklly App. Start your Christmas grocery shopping for your Indian Grocery Chicago style today.