If there's one key ingredient to prepare any scrumptious Indian meal, it is the spices. Indian food is widely known for the spices and condiments used in the recipes. They add to the flavor of any dish and have the ability to transform a boring meal to a tangy and aromatic one.
However, while shopping for Indian spices in Chicago, it is advised not to go frenzy and only choose those that you would require daily. This may include common spices that add to the taste and enhance zest of the food.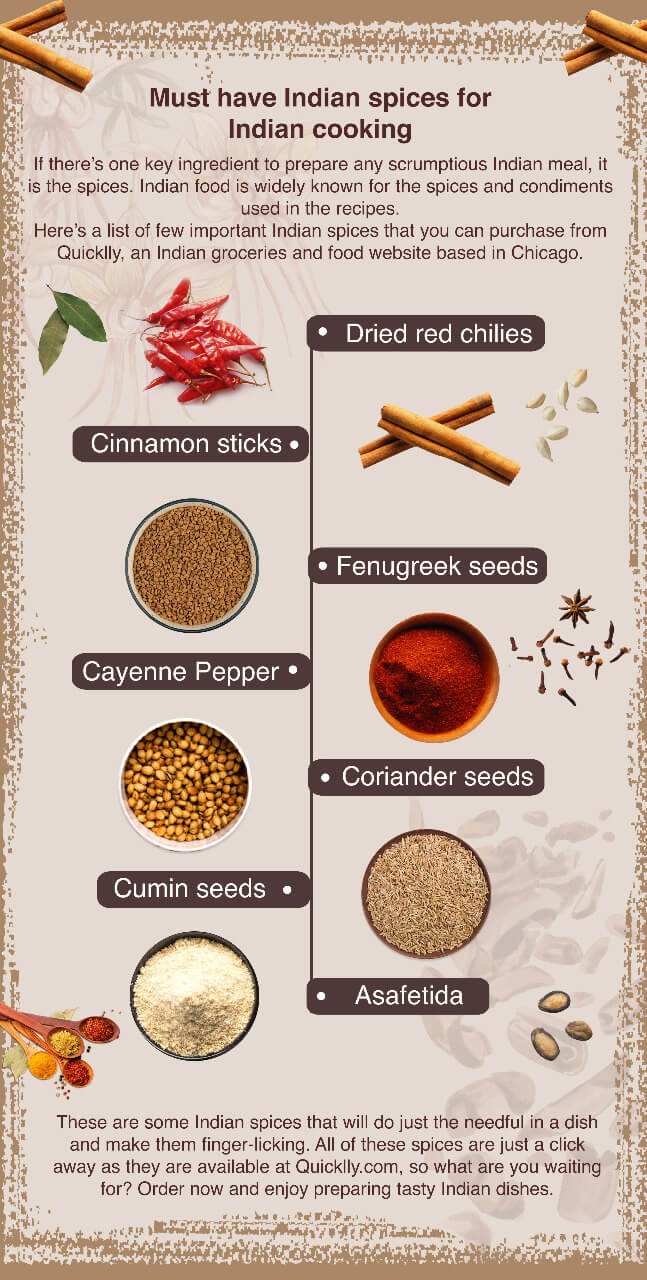 Essential Indian Spices to Look For
Here's a list of few important Indian spices that you can purchase from Quicklly, an Indian groceries and food website based in Chicago.
Dried Red Chilies
Chilly is the main seasoning when it comes to making your food spicy. They come in a large variety; nevertheless, the most common one that is used for curries and chutneys is the dried red chili. It can be added to the recipe as a whole or in powdered form.
Cinnamon Sticks
Cinnamon sticks have multiple uses in Indian cooking. They are one of the key ingredients in Garam Masala, the spice mix that adds flavor to majority of vegetarian and non-vegetarian dishes. Cinnamon stick is also known for its calming aroma when added to food. Moreover, this spice is also used in cakes, sweets, and even curries.
Fenugreek Seeds
Fenugreek seeds can be a little bitter, but they have ample qualities that make them a must spice for Indian meals. Whether you want to use it to temper your dal, or just to enhance the flavor, fenugreek seeds are a must. Besides, fenugreek powder is also widely used to make Indian pickles.
Cayenne Pepper
Cayenne pepper is the spice that adds life to any Indian meal. If you want to add that deep red color to your food, then this should be your go to spice. For people who love a little extra spice in their food, cayenne pepper can be sprinkled on top.
Coriander Seeds
An Indian dish is quite incomplete without adding coriander to it. The fresh green leaves are included in chutneys and soups to enrich the flavor, while the seeds are added to a majority of dishes for its aroma and taste.
Cumin Seeds
Cumin seed is the spice that has diverse benefits. Not only is it a great source of flavor for dishes, but it also aids in better digestion of meals. A popular dish prepared from cumin seeds is the jeera rice that is quite appetizing.
Asafetida
Asafetida is known for its strong fragrance that when added to a meal develops a delightful taste. It is a spice that can be used as an alternative to garlic or onion because it tastes more or less like it.
These were some of the spices that you should definitely have in your kitchen if you want to prepare mouthwatering Indian meals. All of these spices are just a click away as they are available at Quicklly.com, so what are you waiting for? Order now and enjoy preparing tasty Indian dishes.